Bennett Spring State Park– A Camping Destination with a Lot More Fun than Just Camping
Looking for a place which offers not only camping, but also many other activities that your family, especially kids (and even pets) will enjoy to the fullest? Well, in that case,Bennett Spring State Park is the place to go! This park not only contains some of the magnificent campsites, but here you can also fish some wonderful trophy trout or hike in the lovely Missouri woods or do a plethora of other things you always wanted to do on a camping trip besides staying in your RV or tent.
Bennett Spring State Park is located in southwestern Missouri, 12 miles west of Lebanon on Highway 64 and it not only welcomes camping lovers, hikers and anglers, but also their pets. So, you can take your beloved pets with you so they don't miss the fun!
Each day, over 100 million gallons of cool, crystal clear water gush from Bennett Spring, opening up an amazing fishing opportunity for trout lovers. This park has plentiful ofbrown as well as rainbow trout all year round. Note that this is one of the most popular trout parks and Bennett Spring is the third largest spring in the state.
Bennett Spring State Park offers you not just fishing, but you can also enjoy a number of other things. It has miles of hiking trails that range from simple to challenging. It also has campsites with all the facilities you may want. In fact, it contains nearly 200 campsites in 5 different campgrounds where you can park your rig and go on exploring the area and enjoying sights and sounds of wildlife in the charming Missouriforests. Plus, miles of River Niangua that meets Bennett Spring has its own glory that will amaze you. The 3,216 acres of land of this park has so much to offer to visitors that flock here every year to evade the city hustle-bustle and soak up its natural splendor.
Here's a summary of things to do in Bennett Spring State Park which will evoke an urge in you to visit this outstanding park.
Camping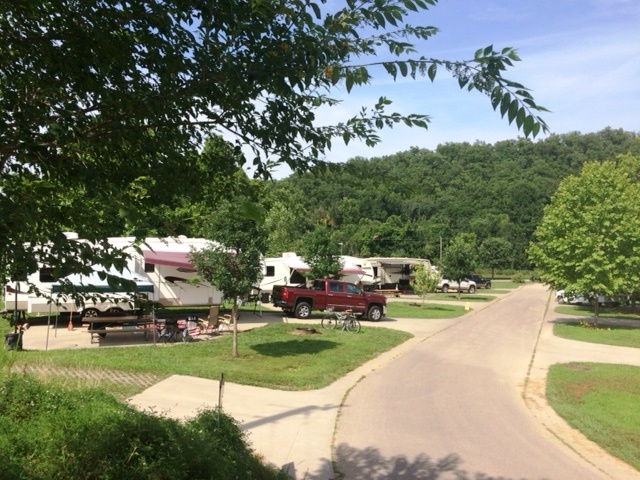 Bennett Spring State Park has 5 campgrounds that offer basic, electric and electric/sewer/water campsites that you can reserve. They offer services like showers, laundry and a dump station. They also offer dining, lodging and picnicking. Since the park offers hiking and fishing, camping enthusiasts has a lot to get immersed in and spend days full of excitement.
Campground 1 is available all year round but water is available only from April 15 through October 15. Campgrounds 2 and 3 are available with water from April 15 through October 31, whereas campgrounds 4 and 5 are available with water from February 25 through October 31.
You can make reservations for campgrounds 1 and 4 for stays from February 25 through October 31, whereas for campgrounds 2 and 3, you can make reservations for stays from April 15 to October 31 and for campground 5, there is first-come, first-served system.
The surrounding area of the park also contains a number of lodges and campgroundsfor visitors to spill into when the park fills up.
Fly Fishing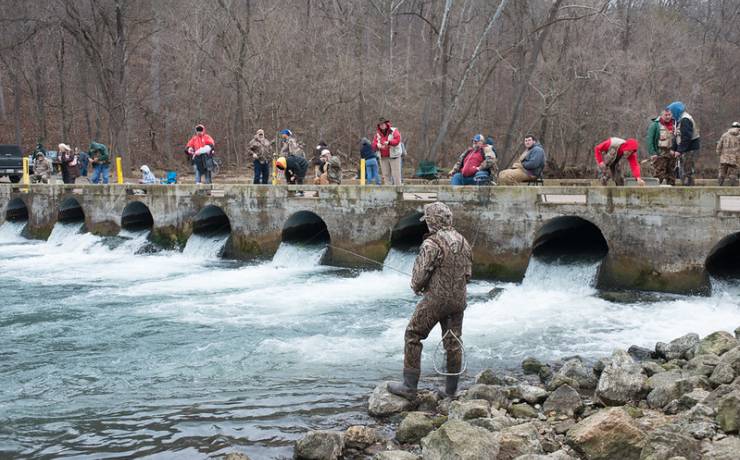 Bennett Spring State Park is the one where much of fly fishing tradition of Missouri started. It boasts of being the first Trout Park in Missouri, and by far, the most popular. The reason for its popularity is a combination of the innate tradition it represents in the sport of fly-fishing and the world class trout fishing it offers.
The two-mile length of the park is divided into many zones so as to accommodate all kinds of anglers. It's stocked with rainbow trout and anglers can catch and keep fish from March 1 to October 31. However, during winter, catch and release fishing is allowed on weekends with flies. Around 400,000 trout are raised and stocked per year in the park. Rainbow trout's average length 12" and many are over 3 pounds.
Zone 1 is a fly only zone even in the catch and keep fishing season. This zone permits spin anglers to legally use single hooked rooster tail spinners as well as marabou jigs.
In zone 2, all artificial flies and lures are allowed with single or treble hooks, on condition that anglers use no soft plastics.
In zone 3, only natural and prepared baits, and soft plastics are allowed, while artificial lures or flies are illegal. Occasionally lunker brown trout may enter from the trophy brown trout area in the Niangua River. This zone also has a remarkable population of smallmouth bass.
All in all, Bennett Spring State Park is a place that all trout anglers from everywhere and especially in the Ozarks should visit.
The park organizes special events each year to encourage angling as a family activity and offer beginners an opportunity to enjoy trough fishing. First Saturday in May is Kids Free Fishing Day. All kids age 15 and under can fish for free during this event.
Hiking

Bennett Spring State Park is also a heaven for hikers. Hiking here can be a pleasurable stroll along the tree-shaded spring branch or an energizing 7-mile trek to explore an amazing natural tunnel. The hiking trails of the park include Bridge Trail, Natural Tunnel Trail, Oak-Hickory Trail, Savanna Ridge Trail and Whistle Trail.
Other Activities
As mentioned earlier, Bennett Spring State Park has much more to offer than camping and fishing. You can take pleasure in the rental housekeeping cabins, the park's rustic dining lodge and the public swimming pool. You can also visit the Cackle Hatchery, a family-owned poultry hatchery where you can check out rare breeds of chicken, game birds, heritage turkeys and waterfowl. They also have incubation viewing, a poultry supplies store and live baby chicks to see or buy. If you're an adventure-lover, go for the 3,000 feet zipping fun at the NRO Zipline through the canopy of the Ozark forest. And if you're a shopping enthusiast, Lebanon has a number of cute downtown shops and the Heartland Antique Mall.
So, have you started planning a RV trip to Bennett Spring State Park?